By ROSHAN THIRAN

–
Success at anything will always come down to this: focus and effort, and we control both.



Dwayne 'The Rock' Johnson
A few days ago, I was sharing the story of Joan of Arc with my son. I had started writing a series on historical figures and leadership lessons that we can learn from them. My son, however, commented that there is more to learn about leadership from 'The Rock' ‒ whom he adores ‒ than from Joan of Arc.
To encourage him to keep learning, I said, "Sure, let's go see what we can learn about leadership from the big man on the big screen." To my surprise (but not my son who said, "I told you so Dad!"), we actually discovered a lot of insights from his life ‒ which only reinforced my belief that there is much to learn from everyone!
So, let's jump into the amazing life of Dwayne Johnson.
At the age of 22, he went home to live with his parents in Florida after being cut from the Canadian Football League. In his pocket, he carried all the money he had – a mere USD7.
The devastating moment of realising that his dream of becoming a professional football player was over turned out to be the biggest motivation in his life; the moment that led him to become one of Hollywood's highest-paid actors and producers ever.
(Together with partner Dany Garcia, Johnson set up Seven Bucks Production, aptly named after his life-changing USD7 moment!)
Reflecting on that journey back home to Florida, Johnson – best known for his wrestling persona, 'The Rock' – often tells his audience, "I knew two things: I was dead broke, and one day I wouldn't be."
The epiphany would ultimately become reality.
As of 2018, Dwayne Johnson's net worth is estimated to be around USD220mil. After his football career ended prematurely, he entered a brief period of sadness and despair.
Yet, soon after, he picked himself up and decided to follow in the footsteps of his father and grandfather, and became a professional wrestler. In describing this twist of fate, he said, "You've got to have faith that the one thing you wanted to happen oftentimes is the best thing that never happened."
Intellectual character
So, how did Dwayne Johnson go from being a failed football player to a wrestling sensation and then, one of Hollywood's hottest stars? One theme that stands out throughout Johnson's life is having the self-belief that we are not bound by our circumstances.
Carol Dweck, professor of Psychology at Stanford University, cites Dwayne Johnson as a prime example of someone with a Growth Mindset. Her research is focused on how the stories we tell ourselves and the beliefs we hold can decide if we will sink or swim.
She said, "Some people believe you have a certain amount of talent and ability and that's it – we call this a fixed mindset – and it makes us afraid to take on challenges and to persist in the face of setbacks or criticism. Other people have the confidence to take on new challenges and are undaunted by setbacks and negative feedback."
Despite Johnson's challenges and setbacks throughout the years – including his failed football career and being evicted with his mother from their home – he went on to establish one of the most exciting wrestling careers, spanning 20 years, and then successfully took on Hollywood despite initial criticism from harsh sceptics.
I term the beliefs we fester in our minds as our intellect character.
It is not just about having a fixed or a growth mindset. The beliefs we have can stop us from achieving high performance, such as "I am from Malaysia. So how can I compete with this guy from the United States?" and others like "We are small, so we can't win."
These beliefs need to be changed into "I am small; hence I am agile, more responsive, and will win."
So, ditch the fixed mindset and look for growth opportunities.
Often, life doesn't go quite as planned. Johnson set his sights on becoming an NFL star, but his world came crashing down around him. He could have stayed depressed and wallowed in self-pity, but instead he looked towards other opportunities and went after them, come what may.
As Johnson put it:
Sometimes you're going to get your a** kicked. You've got to get up and have faith. Years later we look back and realise, it's the best thing that never happened.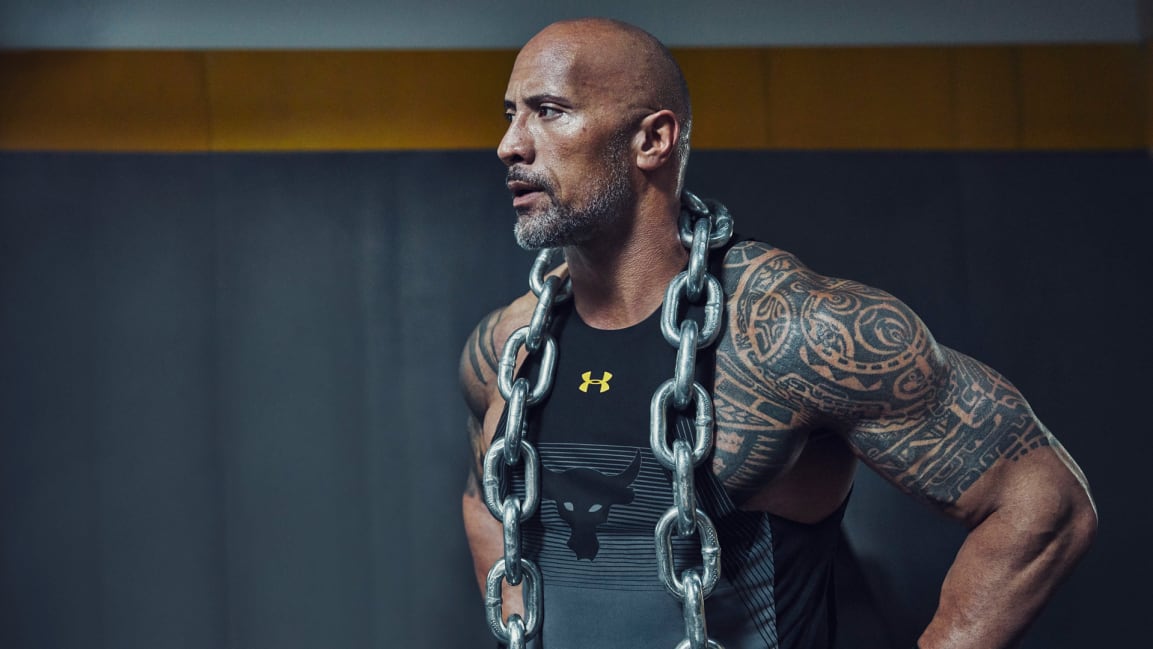 Leadership lessons
What sets Dwayne 'The Rock' Johnson apart from others who might encounter similar challenges is that he never gives up, no matter the struggle.
He has great intellect character, but that's not the only lesson we can learn from him. Let's take a look at a few leadership lessons we can draw from Johnson's inspiring life so far:
1. Have a clear end goal or vision
This seems like cliché advice our parents give us, but not many of us truly know what we want to be.
Johnson left the wrestling world and wanted to make it as a movie star. He started out decently with the movie Scorpion King, but did not make much of an impression in his few following movies.
Instead of sulking and blaming others for his failure, he called for a meeting with the various stakeholders managing him, including his agents. He started the meeting by outlining his end goal.
His vision was clear, "I want to be Will Smith, only bigger and different. I don't know what that means but I can see it!" With that clarity, everyone around him rallied to make his dream a reality.
Is there a clear end goal in our organisations? Is everyone on our team clear about where we (as leaders) want to go? If there is clarity of vision, there will be significant progress towards the goal.

2. Be a listener and give people what they want
Johnson once said, "The greatest lesson I learnt in wrestling was the importance of listening to the audience. The moment I get in the ring, whether I am wrestling in a barn in front of 35 people or in a stadium with 100,000 people, I listen. Are they buzzing? If they are not where they should be, you do something to get them there. I built a career on giving the audience what they want."
Johnson really listens and this helped him build not only his wrestling career but also his business career. He gains significant business acumen by listening.
Great leaders always know more – and this is achieved by listening to everything around them and then making great decisions. Are you listening enough to the 'buzz' around you?
Another key question you may ask is "Why should people tell me important 'stuff'?" This is another key lesson that I picked up from Johnson. The reason why people are willing to share knowledge with him is because he is really nice, and most importantly, he is sincerely interested in the people he interacts with.
Rolling Stones' Josh Eells said, "He will give you a fist bump that makes your humerus vibrate. He will ask your spouse and/or child's name and then make a point to repeat it 17 times… and you will leave with newfound inspiration to wake up earlier and exercise more and be kinder to people."
As leaders, we must listen, but first, we must be sincerely interested in the people we speak to. One of Johnson's favourite quotes is: "It's nice to be important, but it's more important to be nice."
He adds, "True story, I heard this quote when I was 15 and thought 'man if I'm ever important one day, I want to make it a point to be kind and nice'. I don't know if I'm 'important' these days, but I can tell you that being nice and kind to people is LITERALLY the easiest thing to do."

3. Promote yourself (no-one else will)
Humility has its place, and we certainly shouldn't oversell who we are or what we do. On the other hand, radio silence is deadly in today's digital world where content is king, and presence is everything.
Johnson's hundreds of millions of online followers are constantly informed of what he is up to, and film producers love the lengths he goes to in order to promote his movies.
You can be the most talented person out there, but if you don't let the masses know, there are plenty of other people out there waiting to grab their attention. But do it like Johnson – with finesse!

4. Be the hardest worker in the room
This is one of Johnson's favourite expressions.
Not only does he have a packed schedule most days, he gets up at 3.00 a.m. in order to get a full workout done even before his day begins. And as a proud family man, he makes sure to spend plenty of time with his loved ones, too.
We all have 24 hours in a day – how you prioritise and make use of those hours will determine how likely you are to achieve the goals you set for yourself.
Are you genuinely yearning to reach the next level, or are you simply paying lip-service to the idea? If you don't work hard to keep your edge, the next person is always right behind you…

5. Keep calm and solve the problem
One of the most interesting insights I have encountered about great leaders is that they are constantly calm regardless of the hurdles encountered.
Most film directors who work with Johnson love him for his calmness and ability to be pushed hard. As an athlete, he understands being pushed very hard and never gets annoyed or upset with reshoots or mistakes on set.
In fact, director Rawson Marshall Thurber, who directed him in the movies Central Intelligence and Skyscraper, states that he has never seen him get mad, except for one occasion when "there was a miscommunication about when he would be done shooting, and he wasn't gonna be able to get on his flight to go see his little one. It was the most upset I've ever seen him. But the way he handled it was really cool. He brought everybody together in the middle of the set and said, 'I'm disappointed in all of us that we're here at this point. How can we solve this and move forward?'"
Which brings me to the next point, when we get upset about issues, we should not sulk, instead, like Johnson, we should shoot for a resolution.
Resolving issues quickly and in a practical manner is what great leaders do seamlessly. If we want to become a great leader, we need to learn to be calm and quick in resolving all conflicts and issues.

–
Roshan is the founder and CEO of the Leaderonomics Group. He believes that everyone can be a leader and make a dent in the universe, in their own special ways. Connect with Roshan on Facebook, LinkedIn or Twitter for more insights into business, personal development and leadership. You can also email him at roshan.thiran@leaderonomics.com.